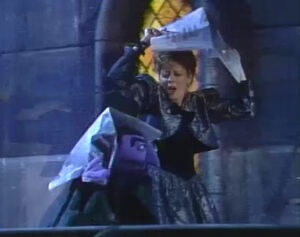 The Rocky Horror Picture Show is a 1975 British musical comedy which parodies horror and science fiction films, based on the 1973 stage musical The Rocky Horror Show. A favorite of the midnight movie screenings, it is the longest-running theatrical release in history. The film is currently famous for its often participatory nature in public screenings.
References
The film was parodied on Sesame Street with Susan Sarandon. She, along with the Count, are stranded in the rain and find themselves at the door of a large castle, echoing the opening scenes of the film.
In the video commentary for Muppets from Space, Rizzo and Gonzo interact with the movie on-screen. Rizzo notes, "This is like The Rocky Horror Show!"
Connections
External links