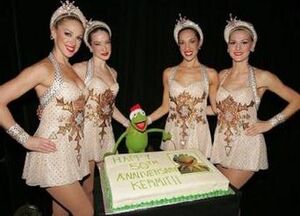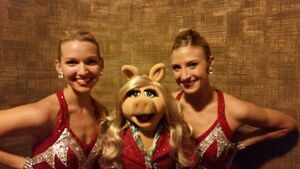 The Rockettes are a precision dance company, famous for their flawless kicklines. They are based out of Radio City Music Hall near Rockefeller Center in New York City.
Kermit the Frog appeared with them during his 50th Anniversary World Tour on November 4, 2005.
Miss Piggy appeared with them in October 2014.[1]
References
In a series of strips that ran November 16, 1981, The Muppets comic featured a group of singing and dancing worms called "The Wormettes."
During their appearance at The Secret Policeman's Ball in 2012, Statler and Waldorf reminisced about their youth: Waldorf saying "Can you believe it, Statler? Radio City Music Hall... we're heckling in the big leagues now." and Statler adding "Remember when we used to come here as kids and watch the Rockettes?" with Waldorf replying "Oh yeah! And then they covered over that hole in the dressing room wall!"
Sources
↑ @RealMissPiggy on Twitter (October 28, 2014)
Ad blocker interference detected!
Wikia is a free-to-use site that makes money from advertising. We have a modified experience for viewers using ad blockers

Wikia is not accessible if you've made further modifications. Remove the custom ad blocker rule(s) and the page will load as expected.