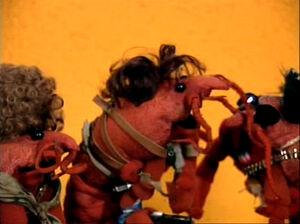 The Rock Lobsters were a crustacean band appearing in Muppets Tonight episode 204. They were booked on the show to perform the B-52's song that shares their name, but they secretly planned to seize control of the broadcast, as representatives of the Crustacean Liberation Army. They are eventually foiled by Pierce Brosnan and his Deadly Alarm Clock weapon.
The Rock Lobsters were performed by Jerry Nelson (Leader), Steve Whitmire (singing vocals), Dave Goelz (Ed), and John Kennedy (puppeteer Female Rock Lobster).
Ad blocker interference detected!
Wikia is a free-to-use site that makes money from advertising. We have a modified experience for viewers using ad blockers

Wikia is not accessible if you've made further modifications. Remove the custom ad blocker rule(s) and the page will load as expected.