The Road to China
Talk

0
27,099pages on
this wiki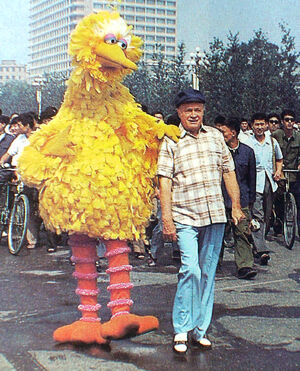 The Road to China, a three-hour variety special, was broadcast over NBC on September 15, 1979, starring Bob Hope. Filmed on location in China, the special featured many big-name stars, including Shields and Yarnell, Crystal Gayle, and Big Bird. Other performers on the tour include vocalists Peaches and Herb and dancer and choreographer Mikhail Baryshnikov.
In Big Bird's sketch, Hope comes across the giant fowl in a panda cage. Big Bird also features in a sketch where he hides from some chefs, and later appears in a sequence where he video tapes a live performance of a puppet show.
According to The Wisdom of Big Bird, this was the first Western special made in China.