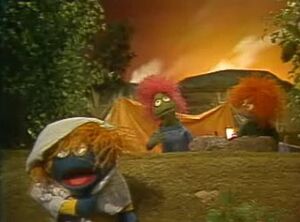 The Rhymies were three Anything Muppets with shaggy hair who appeared in a couple of Sesame Street sketches in the late 1970s. Their name derives from the fact that they speak entirely in rhyme.
Their names were Larry (made from a Lavender Anything Muppet), Mary (made from a Green Anything Muppet), and Barry (made from a Fat Blue Anything Muppet). While Mary and Larry had positive attitudes, Barry often complained alot (which sometimes got the other two annoyed).
The Rhymies had various performers, including: Jerry Nelson and Bob Payne as Mary, Richard Hunt and Frank Oz as Larry, and Jim Henson and Jerry Nelson as Barry.
Sketches
| Picture | Theme | Earliest Known Appearance | Description |
| --- | --- | --- | --- |
| | The Rhymies at sea | Episode 1162 | The Rhymies go sailing at sea, until the boat sinks and they wind up calling for help. |
| | The Rhymies go camping | Episode 1709 | The Rhymies camp in the woods. Mary and Barry cook fish while Barry complains while under the weather. Eventually, a bear (performed by Richard Hunt) wreaks havoc on there camp. |