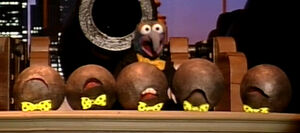 The Refined Young Cannonballs performed the "1812 Overture" with Gonzo on episode 206 of Muppets Tonight. Unfortunately, the act knocked much of the cast.
Their name parodies UK pop group Fine Young Cannibals.
Ad blocker interference detected!
Wikia is a free-to-use site that makes money from advertising. We have a modified experience for viewers using ad blockers

Wikia is not accessible if you've made further modifications. Remove the custom ad blocker rule(s) and the page will load as expected.