Ad blocker interference detected!
Wikia is a free-to-use site that makes money from advertising. We have a modified experience for viewers using ad blockers

Wikia is not accessible if you've made further modifications. Remove the custom ad blocker rule(s) and the page will load as expected.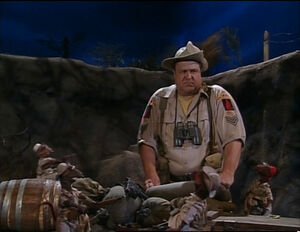 The Rat's Patrol, a takeoff on the World War II show The Rat Patrol, with John Goodman leading a platoon of rats including Rizzo the Rat against the enemy cheese including Swiss Cheese, is seen in episode 104 of Muppets Tonight. As the war is going on, John talks to one of the rats, Indiana, about what he is going to do after the war. Indiana says he plans on cooking his girl and marrying his steak. However after a grenade attack, Indiana ends up split and says to give a message to the steak. In the end, John and the platoon of rats charged into the enemy cheese line not for Indiana, but for the steak.