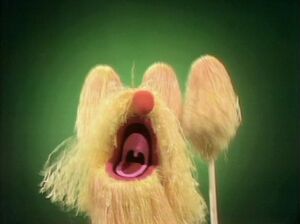 The Raggmopps were a group of singing mops who performed the song "Rag Mop" in The Muppet Show episode 111. The act was discovered by George the Janitor. Two of the mops were later seen dancing together in that episode's "At the Dance" segment.
The lead singer was the only one with a moving mouth (the stick for this mop wasn't seen). While Peter Friedman performed the lead singer's voice, Jim Henson did the actual puppeteering.
The mops were later reused, with space antennaes added and sticks removed, as aliens in the Little Muppet Monsters episode Space Cowboys.
Ad blocker interference detected!
Wikia is a free-to-use site that makes money from advertising. We have a modified experience for viewers using ad blockers

Wikia is not accessible if you've made further modifications. Remove the custom ad blocker rule(s) and the page will load as expected.