Shrinkel and Stretchel
Talk

6
25,904pages on
this wiki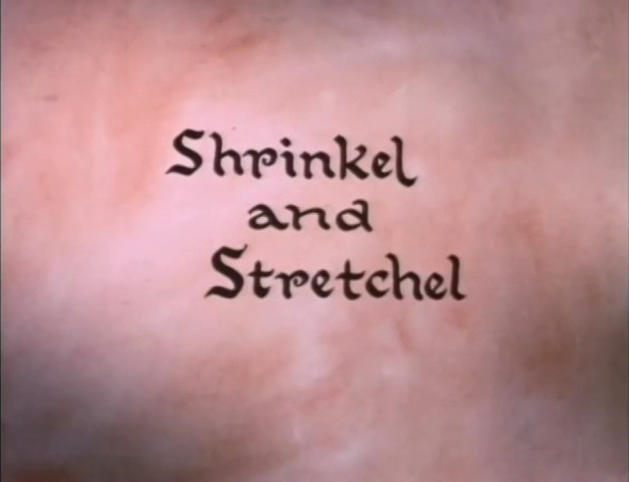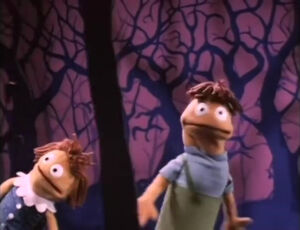 Shrinkel and Stretchel was an industrial film made for Pak-Nit products in 1965 which spoofs the Hansel and Gretel story. The film starred Sue and Billy as the RX Twins, and Taminella Grinderfall from the Tales of the Tinkerdee pilot as the witch.
Presented by Compax Corp., the total duration of the film clocks in at over two minutes and was filmed in color. A narrator tells the story, and in a spoof of the "Tom Swift" radio narrative style, provides interjections whenever a character speaks, i.e., "Said Shrinkel." The plot involves Shrinkel and his sister Stretchel, who have been lost for years in the woods only to come across a gingerbread house inhabited by a witch. Naturally, she instantly shoves them into an oven for dinner. But to her surprise, the two emerge unharmed as they reveal their true names: the "Pak-Nit RX Twins."
The product has a twin effect, as it prevents both shrinking and stretching to fabrics in the dryer. It would appear to the witch that our heroes are named simply as a front. The film concludes on a happy note, as the witch discovers that she too can benefit from shape control.
Transcript
Edit
Open on close-up of a storybook page, bearing the title "Compax Presents"; page turns to "Shrinkel and Stretchel" during narration. Music swells.
Announcer
And now, Compax presents the story of Shrinkel and Stretchel.
Pan and zoom to a painted forest setting, where Shrinkel and Stretchel are wandering; music fades, chirping birds are heard
Announcer
One day Shrinkel and his sister Stretchel got lost in the woods.
Shrinkel and Stretchel cross over to brightly painted house
Announcer
They wandered around for years and finally stumbled upon a gingerbread house.
Close-up on door
They knocked on the door.
SFX: KNOCK KNOCK KNOCK
Out came a wicked witch!
Taminella Grinderfall
I've been waiting for you kids!
Announcer
She said.
Taminella
(poking the kids in the stomachs) You're just in time for dinner! Heh heh. My dinner, that is.
Announcer
And without another word, she pushed them into the oven.
Taminella does just that, leading the kids to a round outdoor oven
Taminella
Boo boo!
Cut to inside of the oven, as steam rises
Shrinkel
Boy, it's hot in here!
Announcer
Said Shrinkel.
Stretchel
Just like the dryer back home.
Announcer
Said Stretchel.
Camera returns to main set
When the wicked witch opened the oven door...
Shrinkel and Stretchel appear, crammed near the front of the oven; dramatic musical sting
Taminella
Aaaaahhhh!
Announcer
Was she surprised! Out came Shrinkel and Stretchel as good as new!
Taminella
How come you're in such good shape?
Announcer
Asked the wicked witch.
Shrinkel and Stretchel
(in unison) Easy!
Announcer
Said Shrinkel and Stretchel.
Shrinkel and Stretchel
We keep in shape, even in machine dryers, because we've got Pak-Nit RX!
Triumphal music swells, shot of Pak-Nit RX box floating against a tree
Taminella
Pak-Nit RX!
Announcer
Exclaimed the witch.
Taminella
I gotcha! It's that new magic spell I read about in Witch's Home Companion.
Shrinkel
Yes indeedy....
Announcer
Said Shrinkel.
Shrinkel
Because of Pak-Nit RX, we cotton knit garments never shrink out of shape or stretch out of shape.
Stretchel
For the first time we're shape controlled.
Announcer
Added Stretchel.
Taminella
So how come your names are Shrinkel and Stretchel?
Announcer
Asked the witch suspiciously.
Shrinkel and Stretchel
Just a front!
Announcer
Chorused the kids.
Shrinkel and Stretchel
Now look in back!
The pair turn, displaying colorful labels on their posteriors. Shrinkel's reads "Pak-Nit" and Stretchel's reads "RX Twins".
Announcer
And they turned around, revealing their true names: the Pak-Nit RX Twins.
Taminella
Twins!
Taminella speculatively touches and examines the pair's clothing during the announcer's spiel
Announcer
Yes, twins. Because Pak-Nit RX has a twin effect. Stops knit fabrics from shrinking and controls stretching too.
Pan across laundry line, with "Shape Control" tag on one end.
And that's why there's shape control in knit sport shirts, slacks, skirts, dresses, and all kinds of cotton knits for all kinds of people.
Taminella
Including witches!
Pak-Nit and Pak-Nit RX logos superimposed over Taminella, fingering her clothes line
Announcer
Happy ending. Pak-Nit for shrink control, Pak-Nit RX for shape control.
Music swells to a finish while Taminella waves at the audience
Storyboard images were included in the book Jim Henson's Designs and Doodles.