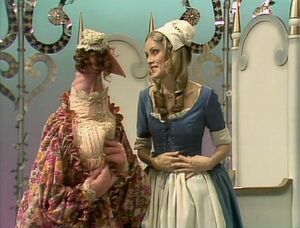 The Queen debuted on episode 121 of The Muppet Show in a dramatization of the A. A. Milne poem, "The King's Breakfast," in which she got her name. In that appearance, Jerry Nelson supplied the voice.
She later appeared opposite Zero Mostel, who played a king, singing "What Do the Simple Folk Do?" on episode 202. In that sketch, the voice, but not the puppetry, were supplied by Richenda Carey as her "audition" for the series.
The Queen is a Full-Bodied Muppet based on the design of Featherstone.
Ad blocker interference detected!
Wikia is a free-to-use site that makes money from advertising. We have a modified experience for viewers using ad blockers

Wikia is not accessible if you've made further modifications. Remove the custom ad blocker rule(s) and the page will load as expected.