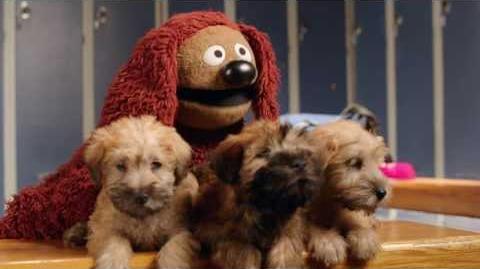 The Puppy Bowl is an annual television program on Animal Planet that mimics an American football bowl game similar to the Super Bowl, using puppies.
The Muppets appeared in three original segments during 2014's Puppy Bowl X to promote Muppets Most Wanted.
Miss Piggy, Kermit the Frog, Gonzo, Camilla, Rizzo, three Muppet rats, a penguin, Rowlf the Dog and some actual puppies appeared in a segment wherein Miss Piggy suggested changing the game to a "Piggy Bowl." Gonzo and Rizzo chime in by suggesting they try a Chicken Bowl and a Rat Bowl instead. In a second segment, Rowlf and Miss Piggy gave a special report from the locker room during the game's third quarter. Lastly, the broadcast featured a preview of Muppets Most Wanted introduced by Kermit the Frog.
Miss Piggy live-tweeted the entire appearance from her Twitter account (@RealMissPiggy).
Ad blocker interference detected!
Wikia is a free-to-use site that makes money from advertising. We have a modified experience for viewers using ad blockers

Wikia is not accessible if you've made further modifications. Remove the custom ad blocker rule(s) and the page will load as expected.