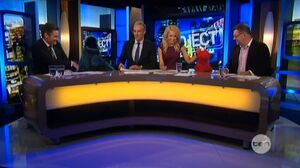 The Project (formally known as The 7PM Project) is an Australian talk show airing on Network Ten. The program is hosted by Charlie Pickering, Carrie Bickmore and Dave Hughes, and a daily guest panelist. The series is produced by Roving Enterprises, Rove McManus' production company.
Appearances
July 2, 2012: Elmo and Cookie Monster appear to promote the 42nd season of Sesame Street. Cookie Monster learns the Australian lingo for "cookie," and both monsters receive one from the hosts. This appearance marks Cookie Monster's first visit to Australia.
Video
Ad blocker interference detected!
Wikia is a free-to-use site that makes money from advertising. We have a modified experience for viewers using ad blockers

Wikia is not accessible if you've made further modifications. Remove the custom ad blocker rule(s) and the page will load as expected.