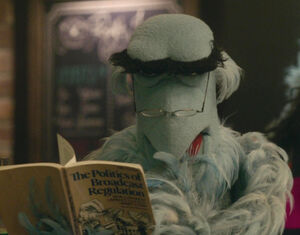 The Politics of Broadcast Regulation, as the title suggests, is a book examining the varying roles of the FCC, Washington D.C. influences, pressure groups, and the courts, and analyzes four FCC actions. The book was first published in 1973 and written by Erwin G. Krasnow and Lawrence Longley. By the third edition (1982), Herbert Terry was listed as a co-author. The book is still regularly cited in texts on the FCC, broadcasting, and mass communications.
In The Muppets episode "Little Green Lie," Sam the Eagle is reading the third edition at Rowlf's Tavern.
Ad blocker interference detected!
Wikia is a free-to-use site that makes money from advertising. We have a modified experience for viewers using ad blockers

Wikia is not accessible if you've made further modifications. Remove the custom ad blocker rule(s) and the page will load as expected.