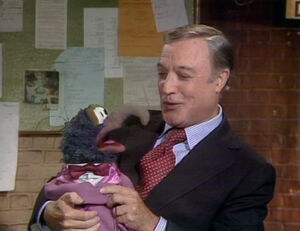 "The Performance of Nonconformity on The Muppet Show -- or, How Kermit Made Me Queer" is an academic article written by theater scholar Jordan Schildcrout, originally presented at the conference of the Mid-Atlantic Popular Culture Association in 2003, and published in The Journal of Popular Culture in 2008.
Schildcrout's interpretation focuses on the theatrical setting of The Muppet Show, stating that The Muppet Theatre is "a venue for rebellion against propriety, where performers can irreverently 'play' with cultural norms," including traditional gender roles. The article pays particular attention to Miss Piggy's performance of diva femininity and Gonzo's transgressions of gender norms, such as his singing the romantic song "You Wonderful You" with Gene Kelly in Episode 501. Schildcrout further argues that "the Muppets take on a truly subversive edge when they underscore their unruliness by placing themselves against the stern moralizing of the show's self-appointed authority figure, Sam the Eagle," citing Sam's losing battle against the "revolutionary" Elton John in Episode 214.
"The Performance of Nonconformity on The Muppet Show" has been cited in other Muppet scholarship, including The Rainbow Connection: Richard Hunt, Gay Muppeteer and Kermit Culture.
External link
Ad blocker interference detected!
Wikia is a free-to-use site that makes money from advertising. We have a modified experience for viewers using ad blockers

Wikia is not accessible if you've made further modifications. Remove the custom ad blocker rule(s) and the page will load as expected.