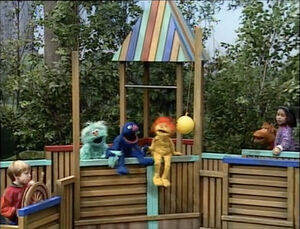 The Park is one of the "Around the Corner" locations that appeared on Sesame Street beginning in season 25 (Episode 3136). It featured a playground and some trees, one of which was home to the Squirrelles. In The Best of Elmo, the park is located across from the Furry Arms Hotel.
The playground is the subject of a song, "At the Playground", sung in a 1993 episode.
As with the other "Around the Corner" locations, the Park was dropped from the show after season 29.
Ad blocker interference detected!
Wikia is a free-to-use site that makes money from advertising. We have a modified experience for viewers using ad blockers

Wikia is not accessible if you've made further modifications. Remove the custom ad blocker rule(s) and the page will load as expected.