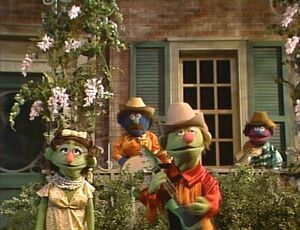 The Oat Bran Zydeco "Je Ne Sais Quoi" Band performs "It's Zydeco" on Sesame Street. Jerry Nelson performs the Green lead singer/guitarist. Additional vocals are occasionally provided by a Pumpkin washboard player (Martin P. Robinson) and a Lavender bassist (Camille Bonora). The band also features a Fat Blue drummer, a Green female accordion player, and a Purple fiddler.
Three of the band members (the guitarist, bassist and fiddler) reappeared in a sketch with Telly and Zoe, reprising their song, but now singing about the letter Z. In this appearance, the fiddler plays the bass guitar and the bassist plays the accordion. The band is also credited with performing "I'm the Big One Now" on the album Sesame Road.
Zydeco is a type of music based off Cajun and Creole roots in Louisiana.
Ad blocker interference detected!
Wikia is a free-to-use site that makes money from advertising. We have a modified experience for viewers using ad blockers

Wikia is not accessible if you've made further modifications. Remove the custom ad blocker rule(s) and the page will load as expected.