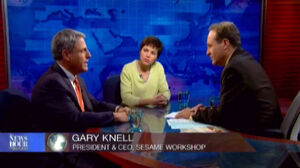 The NewsHour with Jim Lehrer is an evening television news program broadcast weeknights on PBS. The program is anchored by Jim Lehrer, who previously co-anchored with Robert MacNeil (as The MacNeil-Lehrer NewsHour) until MacNeil retired in 1995. In December 2009, the show was renamed PBS NewsHour.
On November 10, 2009, Jeffrey Brown narrated a piece about the 40th anniversary of Sesame Street. Brown then interviewed Gary Knell, along with Lisa Guernsey, author of Into the Minds of Babes: How Screen Time Affects Children from Birth to Age Five. The pair discussed how children's television has changed in the 40 years since Sesame Street premiered.
The show's website also featured additional materials available for download.
References
External links