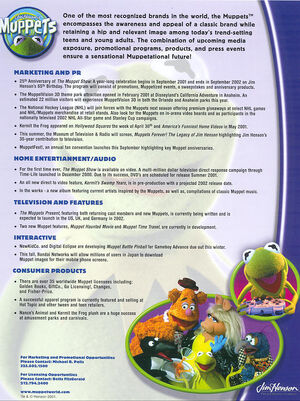 The Muppets Present was the working title of a new Muppet television show planned in 2001 for an expected launch in 2002. The title was announced in a 2001 Jim Henson Company press release.
A pitch was put together for potential advertisers when Team Todd was developing the new Muppet show for FOX. In the reel Pepe the King Prawn boasts that the new show will be hip and edgy, and they will swear. Kermit protests, but not before exclaiming that the Muppets don't say "ass". Clips from Muppets Tonight are included in a montage as well as new animation and Kirk Thatcher playing various characters who are in need of a new Muppet show.
When Kermit the Frog appeared on The Daily Show in February 2001, he told Jon Stewart that the show was coming "soon".
See also
External links
Ad blocker interference detected!
Wikia is a free-to-use site that makes money from advertising. We have a modified experience for viewers using ad blockers

Wikia is not accessible if you've made further modifications. Remove the custom ad blocker rule(s) and the page will load as expected.