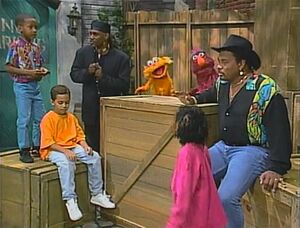 The Neville Brothers are an American R&B group which formed in 1977 in New Orleans, Louisiana. Consisting of brothers Aaron, Charles, Art and Cyril, the Brothers appeared in a 1993 episode of Sesame Street, where they sang "Believe in Yourself".
They also appeared in the celebrity version of "A New Way to Walk".
External links
Ad blocker interference detected!
Wikia is a free-to-use site that makes money from advertising. We have a modified experience for viewers using ad blockers

Wikia is not accessible if you've made further modifications. Remove the custom ad blocker rule(s) and the page will load as expected.