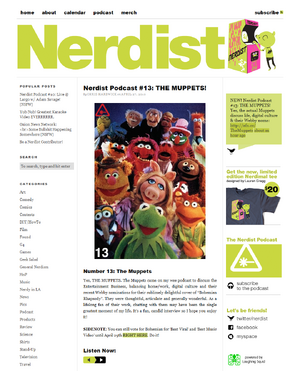 The Nerdist is a podcast hosted by Chris Hardwick and others about various nerd topics. Hardwick previously hosted WIRED Science on PBS and currently hosts Web Soup and does review gadgetry for Attack of the Show both on the G4 Nerdwork.
The thirteenth episode of the podcast, uploaded on April 27, 2010, featured an interview with the Muppets. Pre-recorded at "Muppet Labs," the interview includes Fozzie Bear, Pepe the Prawn, Dr. Bunsen Honeydew, Beaker, the Swedish Chef, Animal, Gonzo, Miss Piggy and Kermit the Frog.
Hardwick spoke in detail about his experience interviewing the Muppets and the review process by Disney (including a comment by Gonzo that he was forced to remove) in his May 19, 2011 appearance on Late Night with Jimmy Fallon.
In 2011, the Jim Henson Company partnered with the Nerdist to create exclusive YouTube content. The first of which, Marvin E. Quasniki for President, was released in December 2011. Red Fraggle appeared on the podcast to talk about "Do It Anyway."
External links