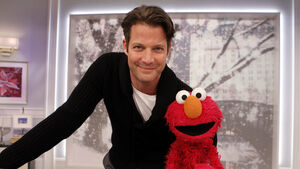 The Nate Berkus Show is a talk show hosted by interior designer Nate Berkus, spun off from The Oprah Winfrey Show in 2010, for two seasons. The show is the third spin-off series from Oprah's show, with the first being Dr. Phil and the second being The Dr. Oz Show.
On December 16, 2011, Elmo joined Nate in the kitchen to cook his favorite family meal for Nate's Holiday Fashion Makeover, chicken pot pie.
External links
Ad blocker interference detected!
Wikia is a free-to-use site that makes money from advertising. We have a modified experience for viewers using ad blockers

Wikia is not accessible if you've made further modifications. Remove the custom ad blocker rule(s) and the page will load as expected.