The Musical Monsters of Turkey Hollow
Talk

2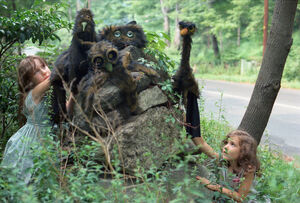 The Musical Monsters of Turkey Hollow was a proposed Thanksgiving television special with music intended to be written by Raymond Scott.[1]
Set in 1968, the script was written by Jerry Juhl about a group of monsters living in the wild around a small New England town, which is the turkey capital of the country.[2]
Production made it as far as puppet design, some of which were built and still exist in the archives. Photos of Lisa and Cheryl Henson were taken in Jim Henson's back yard as a test to see how the puppets would look in the real world outside of a sound stage. The intention was to shoot the special on location.[2]
Graphic novel
In 2011, Lisa Henson mentioned during a Henson.com podcast interview that the project was one of many being looked at for revival. At the time, Kirk Thatcher was working on updating the project while possibly keeping it set in 1968.[2]
In 2014 it was announced that Roger Langridge was adapting the story into an original 96-page graphic novel, similar to how the Henson Company and Archaia Press had Ramón Pérez adapt Henson's unproduced screenplay for Tale of Sand into a graphic novel.
Official description
From Archaia Studio Press:
The lost screenplay by Jim Henson brought to life by Roger Langridge!
In the spring of 1968, Jim Henson and his longtime writing partner were working together to create an original Thanksgiving TV special called The Musical Monsters of Turkey Hollow, which was to be directed by Jim and feature original songs by Joe Raposo of Sesame Street fame. Henson went as far as building the puppets for the special, but no network committed to the project and the script was filed away in the Jim Henson Company Archives. After the success of Archaia's Eisner Award-winning graphic novel Jim Henson's Tale of Sand, we are proud to partner with the Jim Henson Company to bring to life another previously unknown piece of the Jim Henson Legacy. The only thing more exciting than finding the script for the project was securing the talents of the amazing Roger Langridge (writer and illustrator of the Eisner Award-winning Snarked) to adapt and illustrate the project! Eisner and Harvey-Award winner Roger Langridge is the mastermind behind the beloved run of The Muppet Show comics, and now he gets to bring to life hilarious, never-before-seen puppet creations by Jim Henson in an over-sized all-ages adventure.
Turkey Hollow is a picturesque town where hundreds of years ago, unbeknownst to the citizens, a meteorite landed nearby a small brook on the outskirts of town. One Thanksgiving, while young Timmy Henderson practices his guitar, he's accompanied by strange, unearthly, musical sounds. That meteorite wasn't a rock at all but an egg holding seven furry, goofy monsters, each with a unique musical sound. After the initial shock, Timmy befriends the lovable creatures following him all around Turkey Hollow. Not everyone takes a liking to the visitors though and it's up to Timmy to protect his new friends and save Thanksgiving!
Artwork
Television special
This section is about an upcoming project, product, or production.
In 2014 USA Today revealed The Musical Monsters of Turkey Hollow script is headed to television with a small-screen adaption in the works. Lisa Henson stated the adaptation is "incredibly close to the original treatment."
Henson's original puppets along with updated puppet designs for the upcoming special were shown by puppet builder Robert Bennett in a Google+ Hangout tour of Jim Henson's Creature Shop in August 2014.[3]
Principle photography was set to begin in the spring of 2015 in Nova Scotia, Canada. However, production has moved from there due to a new tax credit. [4]
Sources
External links