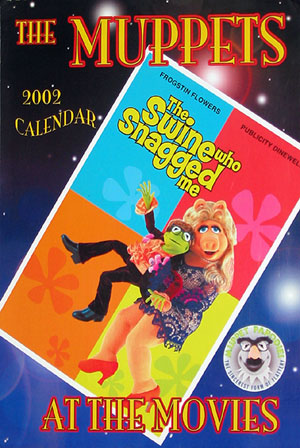 The Muppets at the Movies 2002 Calendar (2002)
Published in 2001 by Slow Dazzle Worldwide in the United Kingdom, this calendar contains twelve Muppet movie parodies. Most of them had been published in previous calendars, with one new parody: Kermit and Miss Piggy in "The Swine Who Snagged Me."
Ad blocker interference detected!
Wikia is a free-to-use site that makes money from advertising. We have a modified experience for viewers using ad blockers

Wikia is not accessible if you've made further modifications. Remove the custom ad blocker rule(s) and the page will load as expected.