This article is about an upcoming project, product, or production.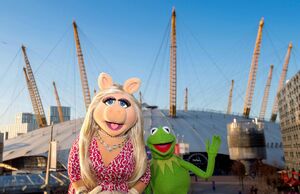 The Muppets Take the O2 is a live stage show starring the Muppets to be performed at the O2 Arena in London, England on July 13 - 14, 2018. The show is a follow-up to 2017's performance at the Hollywood Bowl.
Highlights will include performances by Miss Piggy and Dr. Teeth and the Electric Mayhem, along with new sketches of Pigs in Space, Veterinarian's Hospital and Muppet Labs.
In anticipation for the shows, local screenings of Muppet movies, live music events, street food and costume contests are planned.
External links