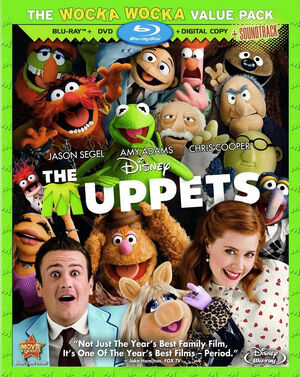 Home video releases of The Muppets.
DVD and Blu-ray titles were released from Walt Disney Home Entertainment on March 20, 2012.
Upon release, The Muppets debuted at No. 1 on both the Nielsen VideoScan First Alert sales chart, which tracks overall disc sales, and Nielsen's dedicated Blu-ray Disc chart. The film also debuted at No. 4 on Home Media Magazine's weekly video rental chart.[1]
DVD Releases

Cover
Notes

The Muppets single-disc DVD

Features:

DVD bonus features:

Release Date:

March 20, 2012
Catalogue number 107816

The Muppets single-disc DVD + soundtrack

Features:

DVD bonus features:

The Longest Blooper Reel Ever Made (In Muppet History*) *We Think

Release Date:

Blu-ray Releases

Cover
Notes

The Muppets 2-disc DVD + Blu-ray combo

Features:

The Muppets DVD
The Muppets Blu-ray

Blu-ray bonus features:

Disney Intermission (Pausing the film provides interaction)
Scratching the Surface: A Hasty Examination of the Making of The Muppets (Hosted by unit production manager monster J. G., the cast and crew take a behind the scenes look at making Muppet and movie history.) (15:14)
Deleted Scenes (8 new scenes, including a cavalcade of unseen cameos) (9:45)
A Little Screen Test on the Way to the Read-Through (3:08)
The Longest Blooper Reel Ever Made (In Muppet History*) *We Think
Audio Commentary with Jason Segel, James Bobin, and Nick Stoller
Miss Poogy: The Oinkerview (1:13)
Easter Eggs:

Extended "Forget You" video (1:20)
Extended "Punch Teacher" video (0:57)
J. G. & Muppet James Bobin on the set (2:10)
J. G. Talks About Permits (0:42)

Release Date:

March 20, 2012
Catalogue number 107814

The Muppets: Wocka Wocka Value Pack

Features:

The Muppets DVD
The Muppets Blu-ray
The Muppets digital copy
The Muppets soundtrack download card

Blu-ray bonus features:

Disney Intermission (Pausing the film provides interaction)
Scratching the Surface: A Hasty Examination of the Making of The Muppets (Hosted by JG) (15:14)
Deleted Scenes (8 new scenes, including a cavalcade of unseen cameos) (9:45)
Explaining Evil: The Full Tex Richman Song (2:29)
A Little Screen Test on the Way to the Read-Through (3:08)
The Longest Blooper Reel Ever Made (In Muppet History*) *We Think
Spoof Trailers
Audio Commentary with Jason Segel, James Bobin, and Nick Stoller
Miss Poogy: The Oinkerview (1:13)
Easter Eggs:

Extended "Forget You" video (1:20)
Extended "Punch Teacher" video (0:57)
JG & Muppet James Bobin on the set (2:10)
JG Talks About Permits (0:42)

Release Date:

March 20, 2012
Catalogue number 108764

Digital Downloads

Art
Notes

Available via:
Advertisements
Disney Blu-ray & DVD trailers
International releases
Sources
↑ "'The Muppets' Debuts at No. 1 on DVD Sales Chart" Thomas K. Arnold The Hollywood Reporter 3/28/2012