Scenes filmed for The Muppets, but cut before release.
---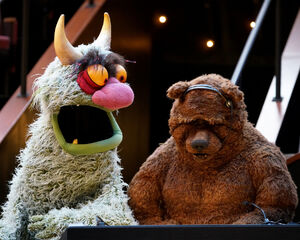 An interaction between Bobo the Bear and Big Mean Carl is shown in press photos, but no such scene appeared in the broadcast episode.
---
An extended version of the scene with Chip servicing Gonzo's computer as described by Claire Suddath for Bloomberg Businessweek was not used in the final version of the episode:
"

In today's scene, Gonzo's computer crashes. When the IT guy, Chip—a new Muppet—goes to fix it, he discovers that Gonzo has been catfishing women by posing online as the actor Liam Hemsworth.

"Even I know that won't work, and my entire life consists of two dates with a cashier from Walgreens," Chip says. Prady frowns. "That's an unnecessary jab at women who work at Walgreens," he says. Prady, 55, has a large head, close-cropped hair, and a wide, thin mouth that makes him look a bit like one of the Muppets he's filming—specifically Chip, who was modeled after Prady.

They reshoot the scene. Dave Goelz, who's been voicing Gonzo since 1976 and is manning both puppets, tries another joke for Chip: "My entire love life consists of going to the prom with my mother."

"Sister!" Prady suggests.

Goelz tries it. Then aunt. Then grandmother. Sometimes Chip stares at Gonzo with his mouth open and eyes closed. Then Goelz gives him an overbite. He makes Chip snort when he laughs. He keeps trying things, and the scene takes an hour to film. It ends up being largely improvised, which is the way Goelz usually works. In the end, Chip's dating experience is reduced to "an inappropriately long handshake with a Jehovah's Witness." Prady finally laughs.[1]"
---
Portions of the episode were filmed in Hi Vista, CA for scenes in which The Electric Mayhem and Kristin Chenoweth travel to a performing gig. ABC released a promotional image of the band in front of the Twin Pines Chapel, but since the structure didn't feature in the episode as aired, it's unclear if the location was meant to be used in the narrative, or merely if the production team took the opportunity for staging the photo.
---
Petra Sprecher is credited as "Aerial Instructor", but aside from appearing in the background, her scene was cut.
Sources
↑ "Can the man behind television's biggest sitcom—and his puppet twin—help the Muppets take prime time?" by Claire Suddath, Bloomberg Businessweek, September 17, 2015
Ad blocker interference detected!
Wikia is a free-to-use site that makes money from advertising. We have a modified experience for viewers using ad blockers

Wikia is not accessible if you've made further modifications. Remove the custom ad blocker rule(s) and the page will load as expected.