The Muppets: A Celebration of 30 Years
Talk

0
25,904pages on
this wiki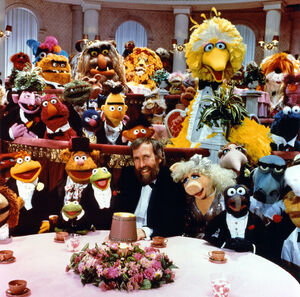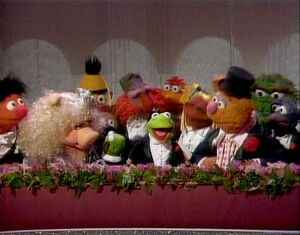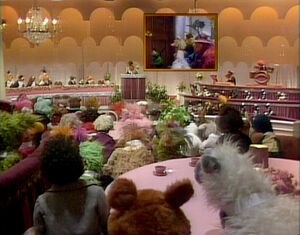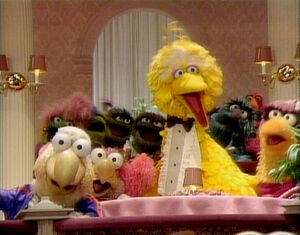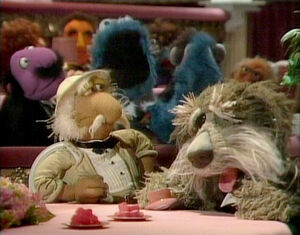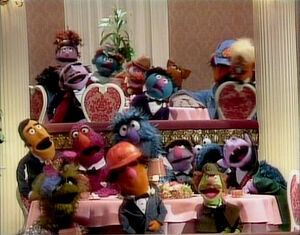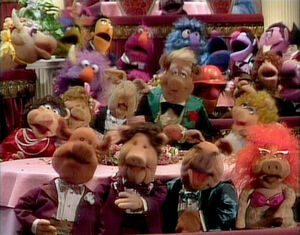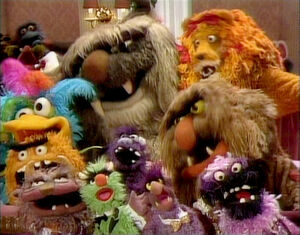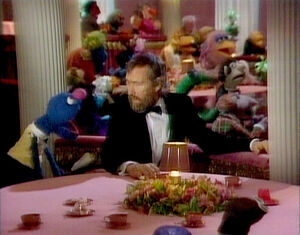 The Muppets: A Celebration of 30 Years aired on CBS on January 21, 1986.
This one-hour special celebrates the thirtieth anniversary of the Muppets, who hold a formal banquet to present a retrospective of their television and film appearances.
Hosted by Fozzie Bear and featuring guest of honor Kermit the Frog, the program provides an overview of the Muppets' history and musical highlights beginning with early appearances in the fifties. Then, Fozzie introduces a selection of clips from The Muppet Show, before Rowlf the Dog introduces clips with Miss Piggy. Kermit and Miss Piggy then introduce a montage of clips from the movies.
Dr. Teeth introduces a sequence featuring still images of various Muppet book covers, record covers, and magazine covers featuring appearances by the Muppets. Sweetums introduces clips featuring monsters, characters eating other characters, and explosions. Ernie and Bert introduce clips from Sesame Street, and then Big Bird introduces clips from other children's shows from the Muppets.
The talking food introduces a clip of the Galley-oh-hoop-hoop, Uncle Traveling Matt introduces clips involving imagination, Floyd Pepper and Janice introduce Muppet music clips, and Scooter introduces clips with guest stars. When Robin asks Kermit what his favorite thing about the Muppets are, Kermit says that his favorite scenes are the times when the Muppets don't try to be funny, leading to some of the Muppets more serious moments. Gonzo then introduces some of the Muppets more cultural moments.
Afterwards, the other Muppets decide to pay tribute to Kermit, showing a clip of Linda Ronstadt singing "When I Grow Too Old to Dream", reedited to feature a number of clips with Kermit. At the conclusion, the entire cast sings "The Rainbow Connection".
Jim Henson appears briefly at the conclusion of the program, being given a bill for his food by Grover.
"Happy Feet" plays during the end credits (sequence with multiple Kermit images cut).
Credits
Muppet Cast
Muppet Show Background Characters
Dr. Bunsen Honeydew, Beaker, Sam the Eagle, Pops, Zoot, Doglion, Mahna Mahna, Zelda Rose, Fletcher Bird, Chickens, Ohreally Bird, J. P. Grosse, Hilda, Annie Sue Pig, Lips, Rizzo the Rat, George the Janitor, The Newsman, Dr. Julius Strangepork, Louis Kazagger, Luncheon Counter Monster, Beautiful Day Monster, Flower-Eating Monster, Behemoth, Miss Kitty, Uncle Deadly, Frackles, Mulch, Chopped Liver, Sundance, Droop, Shakey Sanchez, Miss Mousey, Quongo, Whatnots, Marvin Suggs, Lenny the Lizard, T.R., Penguins, Slim Wilson, Gramps, Zeke, Nigel, Geri and the Atrics, Lydia, Pigs
Sesame Street Background Characters
Follow That Bird Characters
Notes
Video releases
This special was released on video in the United Kingdom by Palace in the 1980s.
Edits
Behind the scenes gallery