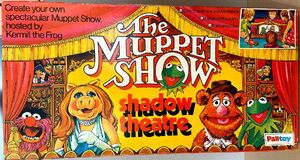 Palitoy produced a cardboard Muppet Show Shadow Theatre in the UK in 1977.
The set comes with four Muppet shadow puppets -- Kermit, Miss Piggy, Fozzie and Animal -- which are operated from behind a white screen. There are strings that move the characters' arms.
The shadow puppet theater looks like the proscenium of The Muppet Theatre, complete with an orchestra pit (featuring Gonzo on cello, Zoot on sax, Floyd on bass, Rowlf holding sheet music and Dr. Teeth conducting) and two theater boxes. Statler and Waldorf sit on the right; Wayne, Wanda, Mahna Mahna and Janice on the left.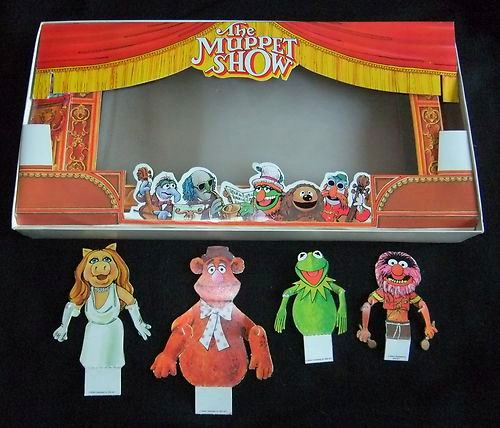 After assembling the set, the figures can be moved behind the white screen to perform a Muppet shadow puppet show.
The artwork is based on season one of The Muppet Show.
Ad blocker interference detected!
Wikia is a free-to-use site that makes money from advertising. We have a modified experience for viewers using ad blockers

Wikia is not accessible if you've made further modifications. Remove the custom ad blocker rule(s) and the page will load as expected.