The Muppet Show Game
Talk

0
25,898pages on
this wiki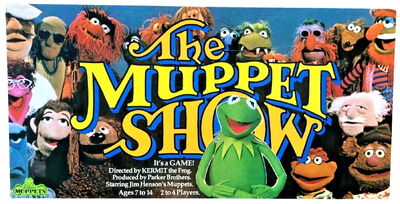 Parker Brothers released The Muppet Show Game in 1977. The board game was also released by Palitoy in the UK, with different art. (At the time, Parker Brothers and Palitoy were both subsidiaries of General Mills.)
The game contains a Muppet Theater board, eight cardboard Muppet players on stands, four Muppet sceneries, a set of Kermit instruction cards and an instruction manual.
This game is played by two to four players. Each player chooses two Muppets and one scenery. On the cards, Kermit instructs you what to do. The first person to get his two Muppets and scenery in the spotlight wins.
The Muppets depicted in the game are from the Muppet Show's first season.
Players can choose between Miss Piggy and Rowlf (with "Veterinarian's Hospital" scenery), Fozzie Bear and Scooter (with Fozzie Bear scenery), Dr. Teeth and Animal (with Electric Mayhem scenery) and Statler and Waldorf (with balcony scenery).
The figures are front-and-back photos of the Muppets, printed on cardboard.
A different version of the board game was produced with drawings instead of photos. In this version of the game, Statler and Waldorf were replaced by Zoot and Gonzo with the Great Gonzo scenery.
The board has a drawing of various season one Muppets sitting in the audience. The lid of the box has a big group photo from 1976.