Ad blocker interference detected!
Wikia is a free-to-use site that makes money from advertising. We have a modified experience for viewers using ad blockers

Wikia is not accessible if you've made further modifications. Remove the custom ad blocker rule(s) and the page will load as expected.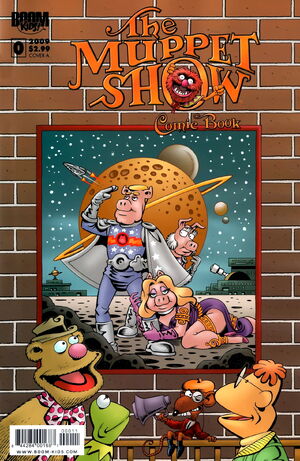 A one-shot comic based on Pigs in Space is the #0 issue of the ongoing Muppet Show Comic Book published by BOOM Studios. It is written by series regular Roger Langridge with art by guest artist Shelli Paroline. [1] This issue was later included in the trade paperback of The Muppet Show Comic Book: On the Road.
Issue #0: Pigs in Space: The Movie
Fozzie and Rizzo pitch the "Pigs in Space" movie to two studio executives who are gradually revealed to be Statler and Waldorf. Referred to by Rizzo as "Flash Gordon meets Animal Farm," the story also features references to Star Wars (include an appearance by Han Solo and Greedo) and visual nods to Futurama and Mystery Science Theater 3000.
Traditional Muppet Show sketches are incorporated into the storyline, including Muppet News Flash, a news report from Koozebane by Kermit the Frog, and Muppet Labs.
Release Date: December 9, 2009
Background Characters: Pops, Crazy Harry, Egress, Rowlf the Dog, Hugga Wugga Aliens, Tom Servo, Crow, Bender, Robin the Frog, Tom, Dick, and Harry, Gladys, Thog, Javas, Behemoth, Han Solo and Greedo, Scooter (cover only)
Translations
See also
The Muppet Show Comic Book:
Muppet Classics:

BOOM! Motion Comics:
External links
Sources