Ad blocker interference detected!
Wikia is a free-to-use site that makes money from advertising. We have a modified experience for viewers using ad blockers

Wikia is not accessible if you've made further modifications. Remove the custom ad blocker rule(s) and the page will load as expected.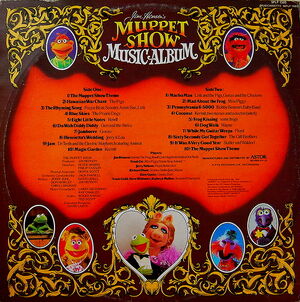 The Muppet Show Music Album features songs from the first four seasons of The Muppet Show. This album was released in the United Kingdom, Australia and other countries, but not in the United States.
Track listing
Side One
Side Two
Macho Man - Link and the Pigs, Gonzo and the Chickens
Coconut - Kermit, two nurses and a doctor (witch)
Frog Kissin' - some frogs
The Muppet Show Theme
Other releases
See also