Ad blocker interference detected!
Wikia is a free-to-use site that makes money from advertising. We have a modified experience for viewers using ad blockers

Wikia is not accessible if you've made further modifications. Remove the custom ad blocker rule(s) and the page will load as expected.
| | |
| --- | --- |
| URL  | muppettournament.com |
| Active  | March 14, 2010 - present |
| Type  | Unofficial Fansite |
| Creator  | Joe Hennes, Ryan Roe, Steve Swanson |
The Muppet Madness Tournament is an annual event created by Joe Hennes and Ryan Roe of Tough Pigs and Steve Swanson of The MuppetCast in 2010. It was originally hosted at MuppetFans.com; it is now located at MuppetTournament.com. The tournament mirrors the NCAA's March Madness and encourages fans to vote for their favorite Muppet characters until a winner is crowned. In 2016 the tournament, titled "The Great Muppet Election" changed from mirroring a typical March Madness bracket to mirror the primaries of the US Presidential election in order to select a "Muppet President."
Winners include Bert & Ernie (2010), Super Grover (2011), Kermit the Frog (2012), Rowlf the Dog (2013), the Great Gonzo (2015) and Uncle Deadly (2016).
2010 Tournament
Characters:
2011 Tournament
Characters:
| | |
| --- | --- |
| Character variants: | Animals: |
2012 Tournament
Characters:
| | |
| --- | --- |
| New Characters: | Classics: |
2013 Tournament
Characters:
Disney Muppets:

Sesame Street:

Henson Company:
2015 Tournament
Characters:
Additional "Mad Dash" Candidates:
| | | | |
| --- | --- | --- | --- |
| Movie Humans: | Elders: | Small Muppets: | Good Guys: |
2016 Tournament Election
Characters:
The B.I.G. Party:

The Playtime Party:

The Scraggle Party: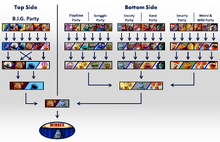 See also
External links