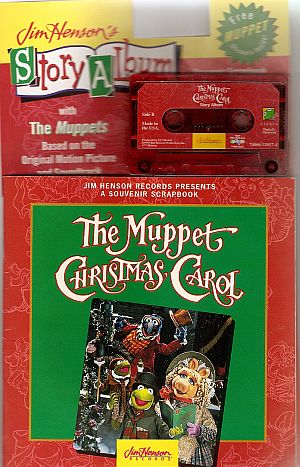 A "Jim Henson's Story Album" adaptation of The Muppet Christmas Carol was released by BMG Kidz and Jim Henson Records in December 1993. The audio adaptation, narrated by Gonzo and Rizzo the Rat, retold the film's story, incorporating the songs "Scrooge," "It Feels Like Christmas," and background score, and occasional sound bites from the movie. The accompanying book is a 24-page "souvenir scrapbook," consisting of photos and minimal text, rather than a literal transcription of the cassette.
The set also included two sheets of Muppet Christmas Carol-themed stickers.
Cast
Credits
Ad blocker interference detected!
Wikia is a free-to-use site that makes money from advertising. We have a modified experience for viewers using ad blockers

Wikia is not accessible if you've made further modifications. Remove the custom ad blocker rule(s) and the page will load as expected.