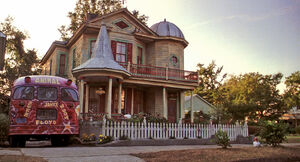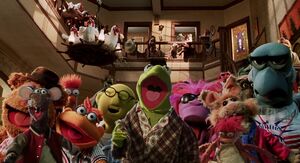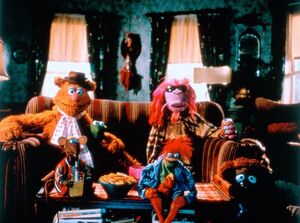 The Muppet Boarding House is the dwelling place of the Muppets in Muppets from Space. The building is located on 44 Bronson Lane in Hensonville. The two-story house features a basement laboratory where Dr. Bunsen Honeydew conducts his experiments. There is only one bathroom.
Gonzo and Rizzo the Rat are roommates, but it is not clear which others share rooms. The meals are communal served by The Swedish Chef. Carter serves as the boarding house butler. Sam the Eagle puts the Chickens through an exercise routine. Statler and Waldorf often relax on the front porch.
The house exteriors were filmed in Wilmington, North Carolina.
Residents of The Muppet Boarding House
Ad blocker interference detected!
Wikia is a free-to-use site that makes money from advertising. We have a modified experience for viewers using ad blockers

Wikia is not accessible if you've made further modifications. Remove the custom ad blocker rule(s) and the page will load as expected.