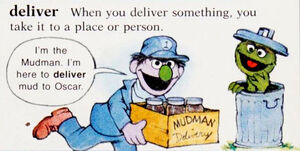 The Mudman delivers mud to Oscar the Grouch.
Episode appearances
Episode 0297 -- When Oscar puts up "NO" signs all over his trash can, the Mudman sees a "No Salesmen" sign and refuses to sell Oscar his fresh supply of mud.
Episode 0329 -- When Oscar doesn't need any mud, the Mudman tries to sell some mud to Tom, who only needs dirt and water. After The Mudman tells Tom that dirt and water mixed together is mud, Tom buys two quarts.
Book appearances