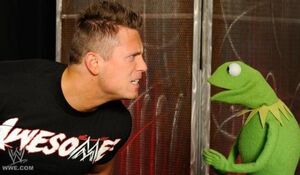 The Miz (born Michael Gregory Mizanin, 1980) is an American wrestler with the WWE and a Reality Television personality. Mizanin was a member of MTV's reality show The Real World in 2001.
The Miz appeared with the Muppets on WWE Raw on Halloween in 2011 as part of a promotion for The Muppets. Other credits include Fear Factor, Are You Smarter Than a 5th Grader? and Ghost Hunters.
He would later appear in the Extended version of the "Food Fight" Muppisode and a teaser for it that appeared on WWE's Youtube page.
He would then go on to interview Kermit on WWE's annual Tribute to the Troops show on December 19, 2012 about his relationship with Miss Piggy, on his recurring talk show segment "Miz TV".
External links
Ad blocker interference detected!
Wikia is a free-to-use site that makes money from advertising. We have a modified experience for viewers using ad blockers

Wikia is not accessible if you've made further modifications. Remove the custom ad blocker rule(s) and the page will load as expected.