Ad blocker interference detected!
Wikia is a free-to-use site that makes money from advertising. We have a modified experience for viewers using ad blockers

Wikia is not accessible if you've made further modifications. Remove the custom ad blocker rule(s) and the page will load as expected.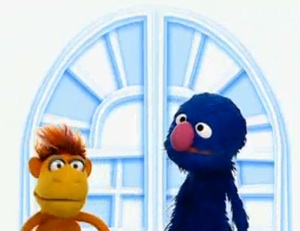 "The Misadventures of Grover and Toto" was a recurring segment on Galli Galli Sim Sim starring Grover and Toto in 2009. Through their fun and entertaining ways, the duo travels around India and other countries as they learned about different cultures.[1]
Previous travelling segments ("Global Grover", "Postcard from Grover") don't show him in the locations, and only have him narrate. This segment owes more to the American segment "Murray Has a Little Lamb".

Segments
| Picture | Adventure | First Appearance | Description |
| --- | --- | --- | --- |
| | Water Park |   | Grover and Toto go to a Water Park to fill up Toto's canteen with water. |
| | Soccer |   | Grover and Toto learn how to play soccer at school. |
| | Earthquake |   | Grover and Toto learn how to take care of themselves in case of an Earthquake at school. |
| | Breakfast |   | Grover and Toto try to figure out what to eat for breakfast by asking hotel guests what food they eat in the morning. |
| | Bookstore |   | Grover and Toto look for their favorite book, "Mitthu and the Mango," at a bookstore. |
| | Music Video |   | Grover and Toto helped to directed a music video. |
| | Hospital |   | Grover takes Toto to the hospital for Toto's check up, but Toto keeps hiding from Grover. After dressing up as a doctor and helping out patients, Grover finds Toto and they go off to see the doctor. Grover finds out that he has an appointment for a booster shot. |
| | Kite |   | Grover and Toto try to fly a kite in the sky. |
| | Travel Agents |   | Grover and Toto are travel agents trying to find a nice place for a customer's vacation. |
References