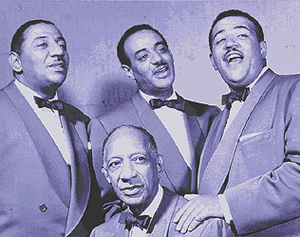 The Mills Brothers were a singing quartet who gained fame in the 1930s, largely through radio and recordings, originally consisting of brothers Harry, Herbert, Donald, and John Mills. Father John Sr. stepped in when John died in 1935, but by 1957 the group had become a trio of the brothers only. They remained popular through the fifties (with a 1952 hit recording of "The Glow-Worm") and sixties.
On the July 19, 1966 broadcast of The Mike Douglas Show, the Mills Brothers appeared and provided the opening voice-over announcement (mentioning guest co-hosts the Muppets). Later in the show, the group performed their 1943 hit song "Paper Doll," while Rowlf and Billy and Sue visually dramatized it.
References
External links
Ad blocker interference detected!
Wikia is a free-to-use site that makes money from advertising. We have a modified experience for viewers using ad blockers

Wikia is not accessible if you've made further modifications. Remove the custom ad blocker rule(s) and the page will load as expected.