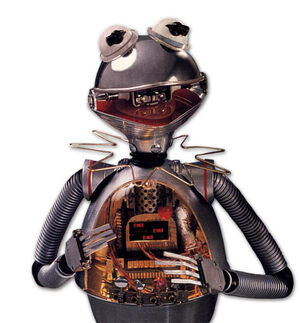 A mechanical wind-up TV show host appears in The Muppet Show episode 104. Scooter brings the robot into The Muppet Theatre, apparently at the behest of his uncle.
The robot looks just like Kermit, with a wind-up key in his back -- but its personality is quite different. The robot is aggressive and mischievous, and he makes improper advances on Miss Piggy.
The threat to Kermit's hosting job is short-lived -- at the end of the episode, the wind-up host breaks down and Kermit puts its away.
Other Robotic Kermits
Ad blocker interference detected!
Wikia is a free-to-use site that makes money from advertising. We have a modified experience for viewers using ad blockers

Wikia is not accessible if you've made further modifications. Remove the custom ad blocker rule(s) and the page will load as expected.