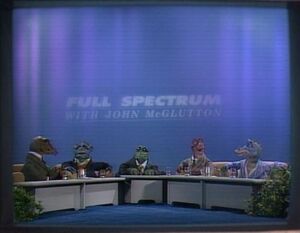 The McLaughlin Group was a PBS political discussion show, created and produced by John McLaughlin, who also moderated. The show ran from 1982 until 2016 (canceled after McLaughlin's death) and was noted for the frequent squabbling of its panelists and McLaughlin's crisp, brisk style of addressing topics ("Issue 1") and moderating.
References
In the Dinosaurs episode "Network Genius," as an example of intellectual programming, Earl Sinclair screens Full Spectrum, a political discussion show spoofing The McLaughlin Group. The moderator is the terse John McGlutton, who asks his panel to debate such issues as "Should the rich eat the poor?" One of the panelists is named Jack (referencing longtime panelist Jack Germond).
Muppet Mentions
On the January 23, 1993 McLaughlin Group broadcast, referring to the recent inauguration of Bill Clinton, McLaughlin joked that regular panelist Jack Germond was recovering from being in the inaugural parade: "He was on the Sesame Street float. He was the Cookie Monster."
Ad blocker interference detected!
Wikia is a free-to-use site that makes money from advertising. We have a modified experience for viewers using ad blockers

Wikia is not accessible if you've made further modifications. Remove the custom ad blocker rule(s) and the page will load as expected.