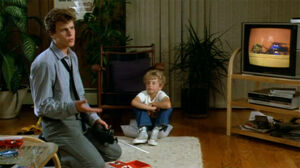 The Manhattan Project is a 1986 movie about a high school student who constructs an atomic bomb for a national science fair.
Muppet Mentions
One scene, about 25 minutes in, features Paul Stephens (Christopher Collet) discussing the presence of plutonium in a supposed medical facility in his town with his study date. In the background, his younger brother is watching The Muppet Show: Sex and Violence, specifically the "Aggression" sketch. The 1975 special was written by Marshall Brickman, who directs this film.
Connections
Ad blocker interference detected!
Wikia is a free-to-use site that makes money from advertising. We have a modified experience for viewers using ad blockers

Wikia is not accessible if you've made further modifications. Remove the custom ad blocker rule(s) and the page will load as expected.