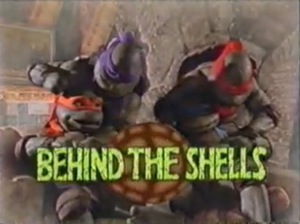 The Making of Teenage Mutant Ninja Turtles: Behind the Shells is a 30-minute documentary video on the making of Teenage Mutant Ninja Turtles II: The Secret of the Ooze, released in 1991. Although the title and back package text suggest that the video focuses on the first Teenage Mutant Ninja Turtles movie, the emphasis is wholly on the second film and, justifying the title, primarily on the creation and performance of the Turtles themselves, with some coverage of Splinter and other Creature or effects characters.
"

A unique peek behind the scenes of the making of the Teenage Mutant Ninja Turtles. It offers an amazing look at how those radical reptiles were born. In depth interviews, and behind the scenes footage of how the stunts and action scenes were filmed. A first ever inside visit to Jim Henson's Creature Shop shows how the four Turtles, and Splinter and Shredder, were developed and given their individual characteristics. In-depth interviews with designers, artists, and model makers and Michael Pressman, the film's director tell the whole story. See exciting behind the scenes footage. If you love the Turtles, then don't miss this once in a lifetime behind the shells look at the film's most fabulous foursome.[1]

"
Sources
Ad blocker interference detected!
Wikia is a free-to-use site that makes money from advertising. We have a modified experience for viewers using ad blockers

Wikia is not accessible if you've made further modifications. Remove the custom ad blocker rule(s) and the page will load as expected.