Ad blocker interference detected!
Wikia is a free-to-use site that makes money from advertising. We have a modified experience for viewers using ad blockers

Wikia is not accessible if you've made further modifications. Remove the custom ad blocker rule(s) and the page will load as expected.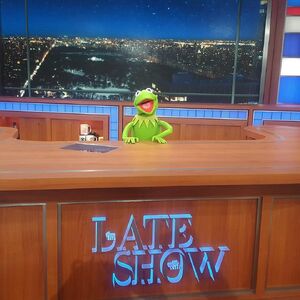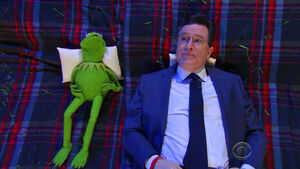 The Late Show with Stephen Colbert is a late-night talk show hosted by Stephen Colbert since 2015. It is the second iteration of CBS's Late Show franchise, following Late Show with David Letterman. Stay Human, led by bandleader Jon Batiste, serves as the show's house band.
Appearances
February 1, 2016 — Kermit the Frog appears to promote the return of The Muppets following its mid-season hiatus. Colbert engages him in a segment called "Big Questions with Even Bigger Stars," where they ponder why we're here, time traveling to meet oneself in the past, and if its better to give than receive. (YouTube)
February 22, 2016 — In a special web-exclusive video, Kermit appears backstage with Jon Batiste to have an impromptu jam session. (YouTube)
March 1, 2016 — In a special introduction directed by guest Spike Jonze, a homeless-looking Stephen Colbert wakes up in Central Park and is encouraged and guided back to the studio by Grover. (YouTube)
See also