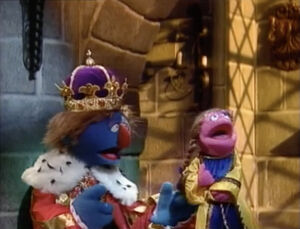 "The King Who Couldn't See So Well" is a Sesame Street story read by Ruthie to two kids. In the story, a king can't see his subjects, his daughter, his royal dinner, or his reflection in the mirror. Luckily, the Royal Smart Person (a little girl) tells him he needs glasses. He gets a pair from the eye doctor, which improves his sight (and his life) greatly.
Cast
Ad blocker interference detected!
Wikia is a free-to-use site that makes money from advertising. We have a modified experience for viewers using ad blockers

Wikia is not accessible if you've made further modifications. Remove the custom ad blocker rule(s) and the page will load as expected.