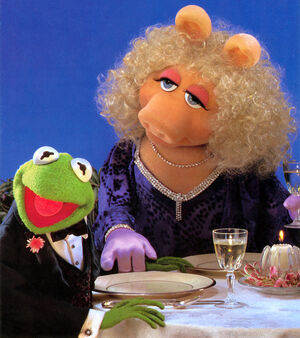 The Kermit and Piggy Story was released by Playhouse Video in 1985, as part of a series of compilations featuring songs and sketches from The Muppet Show. In this one hour special, Kermit the Frog and Miss Piggy share a romantic dinner for two while they remember highlights of their relationship on The Muppet Show.
The video is available for viewing at The Paley Center for Media.
Picture
Segment
Description
Source

Song

"Temptation"
Episode 101: Juliet Prowse

Sketch

Backstage: Miss Piggy meets Robot Kermit
Episode 104: Ruth Buzzi

Song

"I'm a Woman" with Raquel Welch
Episode 311: Raquel Welch

Song

"Coconut"
Episode 410: Kenny Rogers

Song

"Cuanto Le Gusta"
Episode 210: George Burns




Episode fragments

Backstage:




Episode 404: Dyan Cannon

Sketch

Foo Foo the Wonder Dog
Episode 520: Wally Boag

Song

"Lydia, the Tattooed Lady"
Episode 102: Connie Stevens

Song

"True Love"
Episode 324: Cheryl Ladd

Episode fragments

Backstage scenes:




Tony Randall turns Miss Piggy into a stone statue
Tony Randall tries to sneak the stone piggy statue out of the theatre
Floyd cracks stone jokes

Episode 513: Tony Randall

Song

"Mad About the Frog"
Episode 318: Leslie Uggams

Song

"I Enjoy Being a Girl" with Cheryl Ladd
Episode 324: Cheryl Ladd

Episode fragments

Dressing Room: Miss Piggy's pictures of Christopher Reeve
Episode 418: Christopher Reeve

Song

"I Won't Dance"
Episode 210: George Burns

Song

"Pig Calypso"
Episode 221: Bob Hope

Episode fragments

The pigs take over the show:

The pigs capture Kermit
Miss Piggy talks to Kermit in the boiler room

Episode 224: Cloris Leachman

Episode fragments

Backstage:




Episode 502: Loretta Swit

Sketch

The Wedding Sketch
Episode 310: Marisa Berenson

Song

"Ukulele Lady"
Episode 215: Lou Rawls
Goofs
Kermit states that the Wedding Sketch happened a few weeks after he fired Miss Piggy in episode 502. The sketch was actually from two seasons before this in episode 310.
Releases
Ad blocker interference detected!
Wikia is a free-to-use site that makes money from advertising. We have a modified experience for viewers using ad blockers

Wikia is not accessible if you've made further modifications. Remove the custom ad blocker rule(s) and the page will load as expected.