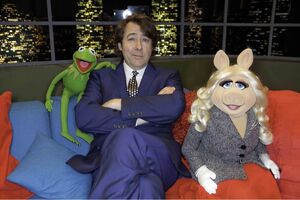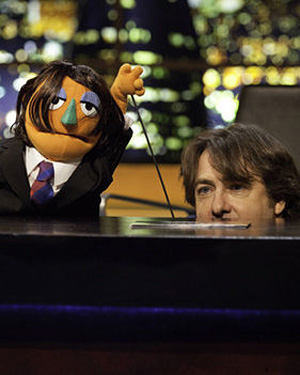 The Jonathan Ross Show is a British evening talk show, hosted by Jonathan Ross. The show airs on BBC1 and ITV.
Kermit the Frog and Miss Piggy appeared to promote The Muppets. The show was recorded on January 25, 2012, and broadcast on January 28, 2012.
The couple sat on a custom made sofa, with mirrors around the bottom to reflect the floor and hide the Muppeteers. They gave Jonathan an FAO Whatnot, but the scene never made the final cut of the show.
Other guests that day were comedian Jack Whitehall, actor Hugh Bonneville, and music group Artic Monkeys.
External links
Ad blocker interference detected!
Wikia is a free-to-use site that makes money from advertising. We have a modified experience for viewers using ad blockers

Wikia is not accessible if you've made further modifications. Remove the custom ad blocker rule(s) and the page will load as expected.