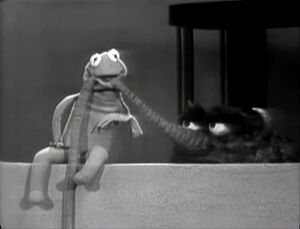 The Jack Paar Program was a Friday night show on NBC, that ran from 1962-1965. The show was hosted by Jack Paar, the former host of The Tonight Show.
On the June 8, 2010 episode of Today, Frank Oz stated that he, Jim Henson, Jerry Juhl, and Don Sahlin created the Muppet Pipes in between the dress rehearsal and performance of their 1964 appearance on the show. The pipes, which were in a closet in their dressing room at the time, are now part of NBC's studio tour.
Appearances
Sources
↑ "Jim Henson's Red Book", 12/18/1964 – Paar show – "Glow Worm"
↑ "Jim Henson's Red Book", 4/2/1965 - Paar Show - Robot
Ad blocker interference detected!
Wikia is a free-to-use site that makes money from advertising. We have a modified experience for viewers using ad blockers

Wikia is not accessible if you've made further modifications. Remove the custom ad blocker rule(s) and the page will load as expected.