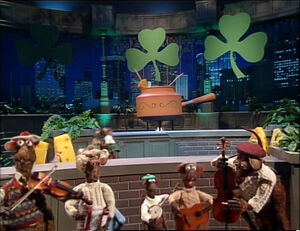 The Irish Rodents sing the opening number on episode 105 of Muppets Tonight while catapulting cheese including Swiss Cheese into a giant fondue pot. As the number draws to a close, the rats go skinny dipping in the vat of molten cheese.
Other songs by the band, according to a vinyl record adorning a wall in PizzeRizzo, include "Salty Rat", "Pied Piper's Call", and "Take It and Scurry".
Ad blocker interference detected!
Wikia is a free-to-use site that makes money from advertising. We have a modified experience for viewers using ad blockers

Wikia is not accessible if you've made further modifications. Remove the custom ad blocker rule(s) and the page will load as expected.