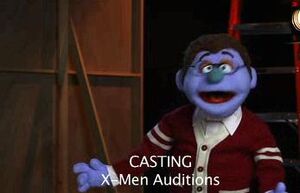 The Invisible Twins are a pair of mutant Whatnot Muppet superheroes who appear in Episode 24 of Statler and Waldorf: From the Balcony. The characters auditioned for X-Men III. Due to miscommunication, one twin showed up to the audition already invisible, while the other thought they were going to start visible and turn invisible. They were rejected.
Ad blocker interference detected!
Wikia is a free-to-use site that makes money from advertising. We have a modified experience for viewers using ad blockers

Wikia is not accessible if you've made further modifications. Remove the custom ad blocker rule(s) and the page will load as expected.