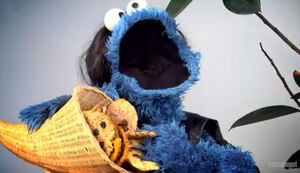 The Hunger Games is the first in a series of young adult novels written by Suzanne Collins between 2008 and 2010. It tells the story of a futuristic society in which adolescents are drafted by the government to compete in a fight to the death as reality entertainment.
References
"Oh, me the tribute from Sesame Street,
hunting cookies 'cuz they good to eat.
In this terrible distopia,
making me way to cookie-copia."
An edition of "Cookie's Crumby Pictures" parodies the film series with "The Hungry Games: Catching Fur." Cookie Monster portrays "Cookie-ness Evereat," who complains about the never-ending franchise. Other featured characters include Finicky (Finnick in the movie), Pita (Peeta spoofed as talking bread), and "Tick Tock Lady" (Wiress). The sketch was written months before the film version of Catching Fire debuted, airing one day in advance in the US.
Connections